Loop's extensive Workday Consulting services include three core services: Workday deployments and AMS work, Permanent Placement for Workday resources, and Staff Augmentation for Workday resources. Our consulting services mitigate challenges faced during Workday projects and provide stabilization and support once live.
Workday is a leading provider in enterprise cloud-based applications for Finance and Human Capital Management. Many organizations make the switch to Workday due to ease of use, business process efficiency and a fully integrated application for human resources and finance. More than 50% of Fortune 500 companies leverage Workday for financial management, human resources, planning, spend management, and analytics. When choosing Workday as a partner, it's not all about the software. You're choosing a talented team with a focus on costumer service and efficiency.
The demand for professionals with Workday experience has increased exponentially in recent years. Maximizing your return on investment is important to us. Our Workday Pro certified helpdesk team offers a wide-range of support. Quality, speed, and efficiency are top of mind when providing services such as password resets, changing worker tax elections, managing worker documents, and much more.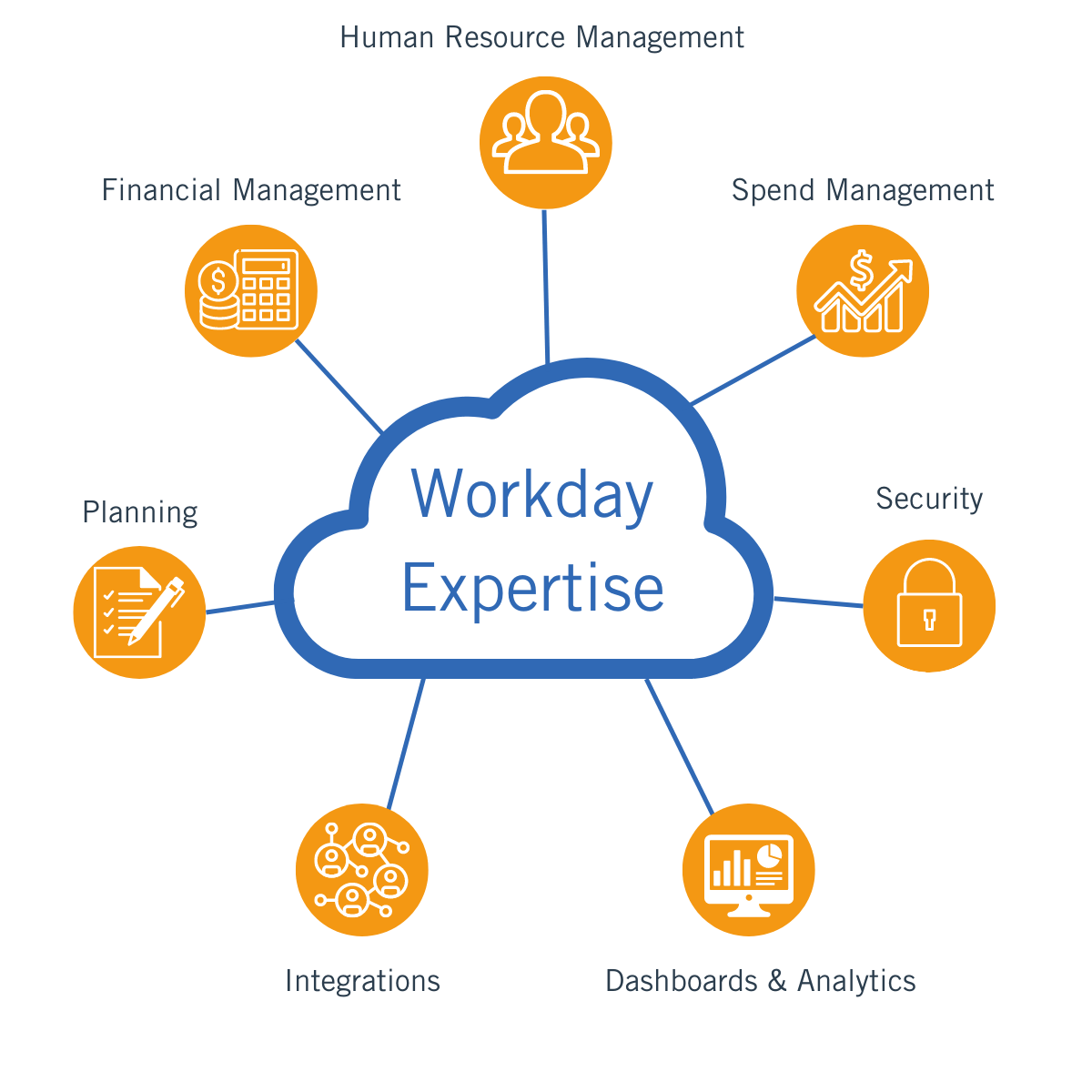 As a full-suite Workday customer and Market Influencer, we are strategically positioned to deliver consulting expertise within the platform of Workday applications. Strategic and tactical business transformation are the results of our efforts, ultimately creating unlimited growth opportunities for our clients.
We understand the unique needs of each client and how each decision can impact the entire business. That's why we offer a full-suite of Pro Certified analysts and consultants for your business to leverage at any point during your Workday journey.
Workday Deployments

Project Management Oversight
Requirements Documentation
System Preparation & Deployment
Legacy Systems & Data Migration
Integration Identification
Testing
Stakeholder Engagement
Go-live Planning & Oversight
Workday Post Go-Live Services

Workday Helpdesk
End-User Training
Training Documentation
Payroll Support
Business Process Optimization
Security Optimization
Workday Pro Staff Augmentation

Functional Analyst
Functional Consultant
Project Management
Engagement Management
Workday Expertise

Human Resources

Core HCM
Recruiting
Time & Absence
Compensation & Benefits
Talent & Performance
Payroll
Learning
Onboarding

Financial

Banking & Settlement
Business Assets
Customer Accounts
Expenses
Financial Accounting
Inventory
Workday Adaptive Planning
Projects
Foundation Data Model
Accounting Center

Reporting
Integrations
Security
Our goal is to deliver a full service experience for Workday applications. You can count on us for functional or technical support, deployments, and optimizations at any time.