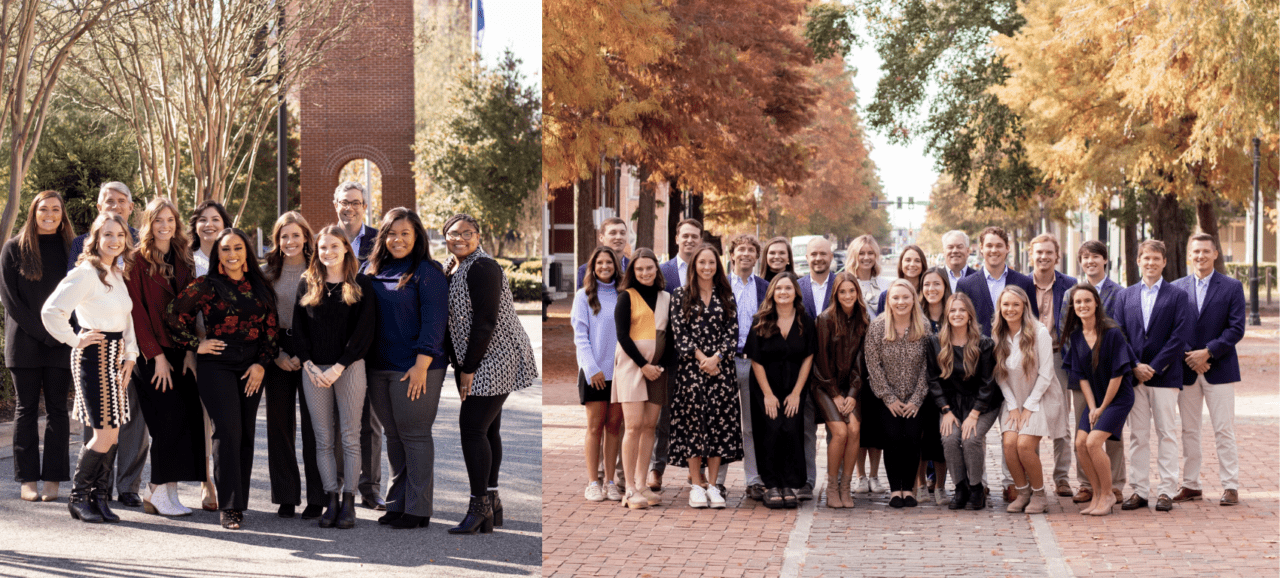 Loop Recruiting is a technology staffing and recruiting company headquartered in Augusta, Georgia and Spartanburg, South Carolina. Founded in 2015 by partners Jason Kennedy and Charlie Wall, Loop capitalized on an emerging dynamic in its local market.
Demand for a reliable, technically-proficient contingent workforce coincided with an upsurge in local technology business development, resulting in the need for Augusta's first and only technology talent solution provider.
Over the past eight years, Loop has built out its own internal recruiting staff and technical infrastructure with its target client base in mind. All full-time Loop employees are members of the American Staffing Association and hold current TSC, CSP certifications. We engage technology vendors and industry leading software solutions with the singular motivation to increase the talent available to our clients and optimize their hiring processes.
In the professional direct-hire recruiting space, we specialize in information technology, software development, and digital marketing, partnering with over 100 direct-hire clients in twelve states. The influence of our successful direct-hire recruiting model can be observed in every facet of our staffing operations. A commitment to quality, efficiency, and an understanding of each client's unique challenges and opportunities established our recruiting business. This same commitment now sets us apart in our contingent staffing partnerships.
Search for jobs through Loop.
Ready to grow your business?
(706) 432-1004
Jason Kennedy
Partner
Jason Kennedy, one of Loop's founding partners, brings fifteen years of recruiting and HR experience to the company. He is adept at responding to the recruiting and consulting needs of every business, from start-ups to established corporations. His recruiting experience includes high-volume contract projects, professional direct hiring, and executive searches for c-level leaders. A Samford University graduate with an MBA from Augusta University, Jason earned multiple industry certifications and awards before founding Loop in 2015. Jason is actively involved in the Augusta Exchange Club and Trinity on the Hill Methodist Church.
(706) 432-1005
Charlie Wall
Partner
Charlie Wall, one of Loop's founding partners, began his career in technology, sales, and project management. Charlie's work with software companies in Augusta and New York City led him to partner with Jason Kennedy to found Loop in 2015. Charlie's nearly ten years of professional experience have proven indispensably useful to successful daily business operations at Loop. In addition to his leadership role in operations, Charlie is an essential contributor to Loop's business development initiatives. Charlie earned a BA from Auburn University and holds an MBA from Augusta University.
(706) 432-1003
Donald King
Partner
Donald King, Loop's Director of Staffing, has been in a leadership role with Loop since 2015 and has led all staffing operations full-time since 2016. Prior to joining Loop, Donald worked for six years in IT Project Management in multiple industries—including health care, finance, and software development. Donald holds a current PMP certification and practices a project-based approach to the management of staffing clients. He earned his bachelor's degree in Information Systems Management from Auburn University. Donald serves as a board member for Heritage Academy Augusta and the Augusta Training Shop.
(706) 922-7654
Charlie Wall Sr.
Partner
Charlie Wall Sr. brings over 40 years of business and management experience to Loop. Charlie's expertise includes staffing, recruiting, management, operations, and business development. A lifelong resident of Augusta, Charlie and his wife Cathy enjoy spending time with their family and three grandchildren.
(864) 606-3331
Jamie Fulmer
Partner
Jamie Fulmer has almost 30 years of business experience that includes human resources, staffing, recruiting, investor relations, business development, and external affairs that range from rapidly growing multi-unit start-ups, to large publicly traded companies. As an active member in his community, Jamie has held leadership roles with a number of organizations that are dedicated to improving his city and state. He was elected to the Spartanburg City Council in 2018 and currently serves on the Board of Trustees of the Spartanburg Regional Foundation. Jamie is a graduate of Wofford College, where he earned a bachelor's degree in government. He is also a Liberty Fellow as well as a member of the Aspen Global Leaders Network.