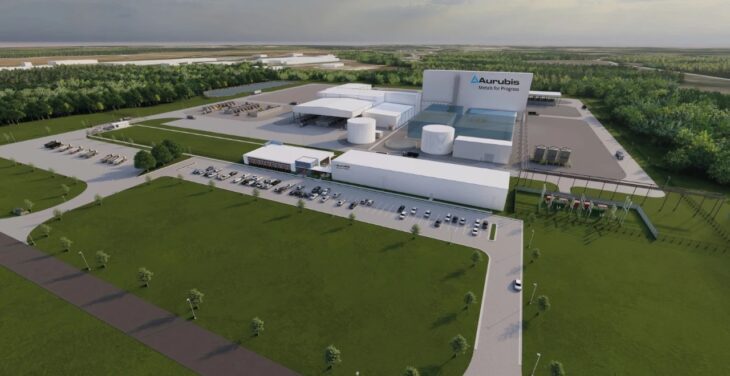 Augusta-based Firm Partners with European Multimetal Recycler
Augusta, GA – February 6, 2023 – Loop, a recruiting, staffing, and executive search firm in Augusta, GA has announced its partnership with Aurubis, a leading global provider of non-ferrous metals and one of the largest copper recyclers worldwide.
Effective January 2023, Loop will support managing talent sourcing and retention efforts for Aurubis as the firm expands into American markets. Aurubis has around 6,900 employees globally, production sites in Europe and the USA and is headquartered in Hamburg, Germany. The Company generated around $20B in annual revenue last fiscal year and is financially sound with practically no debt.
"We're excited for Aurubis, for our team, and for the Augusta business community," said Jason Kennedy, Partner at Loop. "Aurubis is the best in the world at what they do and everyone at Loop is eager to introduce them to the world-class talent right here in Augusta."
Aurubis announced end of last year their investment of over $600 million towards a state-of-the-art recycling and secondary smelting facility for multimetal recycling in Augusta. The plant will be first-of-its-kind in the US. The facility is expected to bring around 200 jobs to the area and is set to open in 2023. The manufacturing plant will be fully operational in 2024.
Company leadership at Aurubis is excited to partner with local vendors as part of their larger effort to take advantage of America's nearly 6 million tons of materials that contain valuable metals.
"We want to become the employer of choice in the Augusta Metropolitan area. With our sustainable and proven business model we are a very successful company." said Aurubis Richmond Managing Director Jörg Buchholz. "At the same time, we offer a great company culture for development and with opportunities for our employees. This new and most modern plant of its kind in Northern America will recycle important metals like copper and brings them back into the production cycle."
Loop will act as Aurubis' domestic talent acquisition arm, supporting the company's ongoing strategy to find, attract and retain top talent. Positions will be cross-disciplinary, including roles in Information Technology, Finance, Human Resources, Procurement, Logistics, and Manufacturing. All applications can be submitted through the link listed below.
www.aurubis.com/en/career/jobs
About Aurubis: Aurubis is a leading global provider of non-ferrous metals and one of the largest copper recyclers worldwide. The company processes complex metal concentrates, scrap metals, organic and inorganic metal-bearing recycling materials, and industrial residues into metals of the highest quality. The Company is headquartered in Hamburg, Germany. The new site named "Aurubis Richmond, USA" will have a capacity of about 180,000 tons of complex recycling materials. In addition, the plant will be built in accordance with the highest environmental standards and as such will allow for the environmentally friendly recycling of input materials. Sustainability is a fundamental component of the Aurubis mission. "Aurubis responsibly transforms raw materials into value" The Company aims for being carbon-neutral production well above 2050. A safe working environment at all of the Aurubis sites, which have very different areas of work in some cases – whether in multimetal production, logistics, or administrative management – has the highest priority for the Company.
About Loop: Connecting people, professions, and innovative ideas, Loop offers a full circle of Human Resource Solutions Including Professional Recruitment, Contingent Staffing, Business Process Outsourcing, and HR Advisory Services. Loop Recruiting has offices in Augusta, GA and Spartanburg, SC. To learn more about Loop and how we can help businesses and job seekers, please visit www.looprecruiting.com, call (706) 922-7654, or email info@looprecruiting.com.
Aurubis AG
Corporate Communications
Christoph Tesch
Head of Corporate Communications
+49 40 7883-2178
c.tesch@aurubis.com
Meino Hauschildt
Communications Manager
+49 40 7883-3037
me.hauschildt@aurubis.com
Loop Recruiting
Jason Kennedy
Partner
706-432-1004
jason@looprecruiting.com