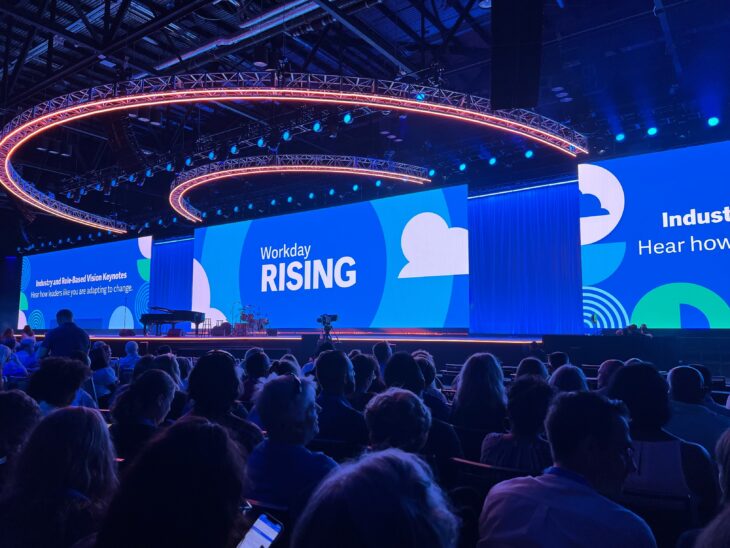 LOOP recently spent a few days at the Workday Rising conference in Orlando, FL. Workday is the leading provider of Human Capital and Financial Management cloud solutions. In addition to being a Workday customer, LOOP offers consulting, recruiting, and staff augmentation services. We are one of the very select few offering all services under one roof! Rising offered LOOP the opportunity to network with customers, industry partners, and Workday team members in person. Monday kicked off with a great performance by New Orleans artist Jon Batiste, followed by an opening Welcome reception, and keynote presentations from Workday executives.
Workday's core values: Employees, Customer Service, Innovation, Fun, Integrity, Profitability. From Aneel Bhusri, Workday Co-CEO: "I've never seen a company with happy employees and unhappy customers. If you take care of your employees, your employees will provide the best customer experience possible." At LOOP, the success of our business revolves around motivated employees. Another reason we chose Workday. Our core values align! Workday is the only closed loop solution in the marketplace. What does that mean? It's the only cloud solution with both financial and human resources data under one roof. A lot of companies in our space haven't been ready to transform yet. It's natural to be resistant to change. We adopted the mentality early to invest in technology that will allow us to adapt to change quickly.
Plan. Execute. Analyze. Aneel Bhusri, Workday Founder and Co-CEO, referenced this as the organizing principal for products at Workday. At LOOP, we manage our work in a very similar fashion. Execution is very important, and having Workday in place allows us to execute flawlessly from recruiting to onboarding to performance management of our workforce. Analyze. With Workday's Prism Analytics platform, we have real-time information at our fingertips. We learned more at the conference about reporting capabilities and how to deliver actionable reporting within minutes to our clients.
Peakon Employee Voice and VNDLY are also two new products offering flexibility in managing your extended workforce. According to one of the presentations during our trip, 50% of the labor pool will engage in gig work by 2027. VNDLY offers a custom solution that LOOP will be able to leverage to manage our contingent / gig workforce. VNDLY facilitates the ability to scale and grow our extended workforce with no limitations. Peakon is a new employee feedback tool that allows managers to see real time feedback from their teams.
In summary, Workday continues to innovate and invest in new cloud technology solutions. This strategy separates them from the competition, and is the reason why LOOP chose Workday as our cloud solutions provider.